Our centres will be reopening to members only on Saturday 25 July and we can't wait to have you back! See below to find out about your first month back, phased reopening and our extra safety measures.
---
Phased reopening of our centres
To keep our staff and members safe, we'll be operating a phased reopening over the coming weeks. Initially, our centres will be opening to existing members only in August, before opening to pay as you go customers and new members:
25 July: Gym and classes (members only)
1 August: Pools, changing rooms (for pool users only) and racket sports (members only)
10 August: Outdoor track, adult swimming lessons, Hydro Active and Aquacise (members only)
1 September: Centres open to casual users and new members
7 September: Children's swimming lessons resume
---
How we will keep you safe in our centres
Our priority is the health and safety of our staff and members. We've followed Government and industry guidance, and consulted both our staff and members to find out which health and safety measure they would like to see: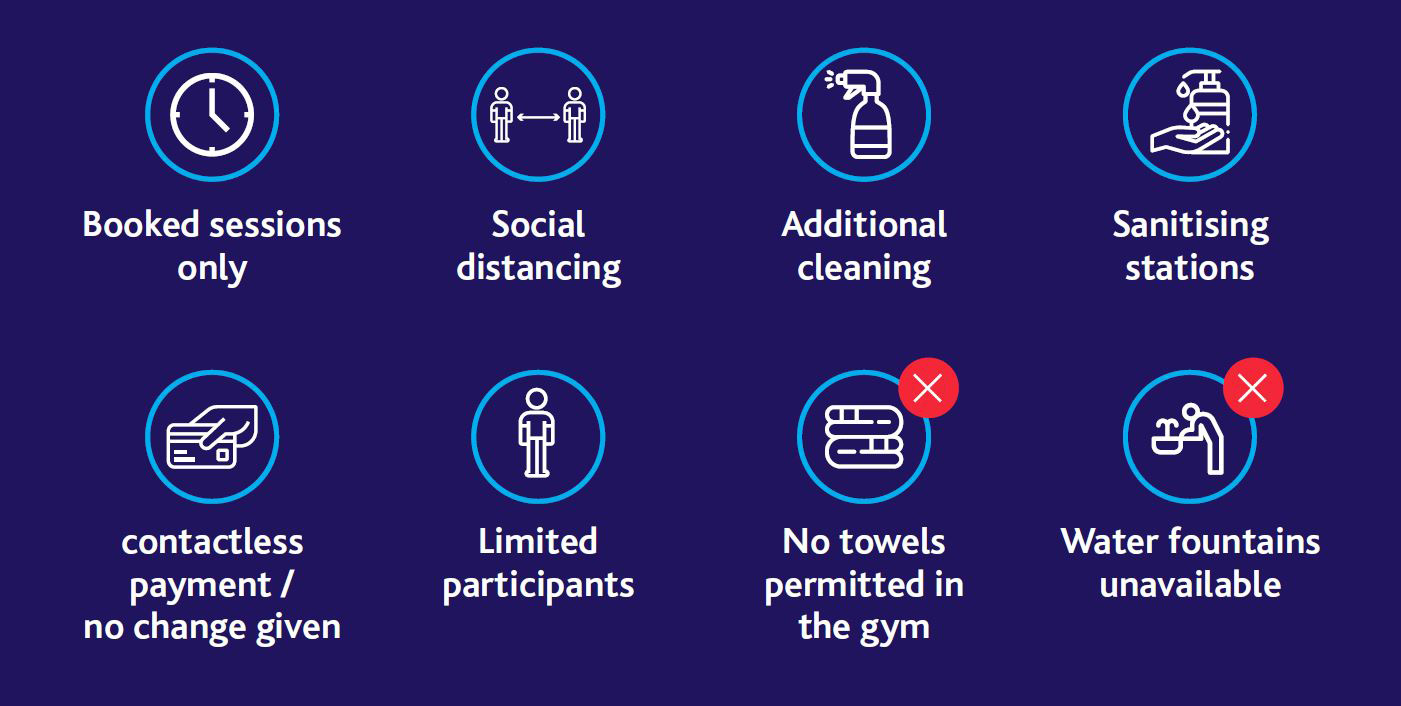 All customers will be required to wear a covering when on entry, exit and when transitioning through the centres.
All gym sessions, swim sessions, classes and court bookings must be booked in advance
All customers will be required to adhere to social distancing at all times
Additional cleaning will be taking place in all areas of the centres
Sanitising stations will be available throughout the centres
Please pay contactless where possible – no change will be given in cash transactions
There will be a maximum capacity for all sessions
Towels are no longer permitted in the gym or classes. Blue roll will be provided.
Water fountains are unavailable – please bring your own drink
---
Frequently Asked Questions
---
Coming back in August? Members have got a FREE month on us!
Thank you members! All members who did not cancel during our closure can enjoy a FREE month's membership in August.
As well as saying thank you, we want to make sure you are comfortable when visiting our centres before paying in full. You can visit our centres between Saturday 25 July - Monday 31 August for free. Your first payment will be taken as normal on Tuesday 1 September.
If you pay for your membership annually or via our Fit For a Fiver scheme, the free month and prior months we were closed will be added onto your subscription.
---
Not ready to come back? Extend your membership freeze
We'd love to have you back but we understand if you would like to continue your membership freeze. As August is free, pop along to see how our facilities are operating before making a decision. If you would like to continue your membership freeze after August, please let us know by 21 August 2020.
If you decide to cancel your membership, please see our cancellation terms and conditions which have recently been updated.